The Duckling Group
The Duckling Group caters for children aged from approximately 24 months to three ½ years. The room is fully equipped with enjoyable learning through play activities and early Montessori curriculum materials. Children joining our Duckling group may either be transferring from the Toddler room or may be completely new to the nursery.
Children who have attended our Puddle Duck Group will transfer to our main Montessori based nursery between 24 Months and 2.5 years depending on spaces and their readiness for the slightly more structured nursery setting.
A sense of family is fostered by different aged children sharing some group activities together, either breakfast in the morning or a walk to see the animals.
The whole nursery is influenced and guided by the Principal's passionate belief in "the child" and the Montessori Method of Education and care. As well as this the Duckling group build on earlier group activities by promoting social skills, encouraging the children to learn to share and take turns. When our children transfer from our Puddle Duck Group to our Duckling Group, they will begin the next stage of their introduction to the Montessori Method of Education.
Alongside play opportunities they will be introduced to the early Practical Life Activities as detailed later in this prospectus.
If required parents should send nappies to nursery, either disposables or towelling. In the event that insufficient nappies are provided by parents, we will provide them at cost price, if you wish us to apply nappy cream you must give us written instructions and supply this.
Gosling Group
Our other main group is known as the Gosling Group and currently caters for children aged three and over, some of whom, are in their final year in preschool education.
Within this classroom children are introduced to the further Montessori materials, building on earlier experiences.   When appropriate the activities shared progress towards some academic learning – for example using Sandpaper letters and numbers to learn about phonic sounds and number symbols.
The children in the Gosling Group are encouraged to be as independent as possible within the nursery setting, organising their own snacks and supporting their friends through collaborative play and exploration.
For preparation for transition to school, the children within the Gosling room begin to do PE in our Grass Garden as well as other group activities to help develop the skills needed for school readiness.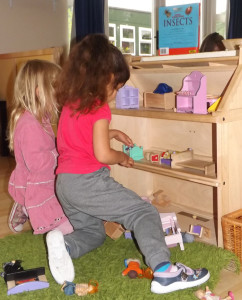 "scooping rice" – helps develop concentration and left to right tracking ready for reading!