Our Puddle Duck Day care rooms cater for children from 3 months of age.
Our infant community currently has space for just 12 babies and toddlers between the age of 3 months and 2 years and is staffed by caring and experienced staff.
The infant community is currently housed within a separate building, providing a separate area in which our youngest children can flourish and develop.
Our toddlers will enjoy a rich variety of opportunities to learn through play, providing preparation for the transition to our main nursery group when they are between 20 Months and 2.5 years
Sharing books to help language skills to develop.
Babies and Toddlers who still enjoy milk should be provided with provisions, either bottled or frozen breast milk, ready mixed formula or milk powder ready for staff to prepare.
If any parents work near enough to allow them to do so, they will be welcome to return to Puddle Duck during the day to feed their little one either in the comfort of the quiet room, office or where ever they feel most comfortable.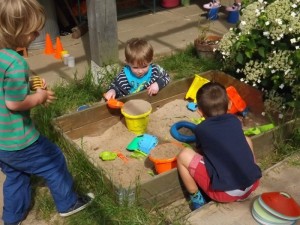 The transfer into the main nursery school area which caters for our Duckling and Gosling groups is gradual, with children initially joining the duckling group for short periods of time with a key person to enable them to gain confidence and become familiar with their new surroundings.
Transfer to the main nursery groups will enable your child to continue with, and further their Montessori based education, which they will have started to enjoy whilst spending time in our infant community.
A sense of family is fostered by different aged children sharing some group activities together