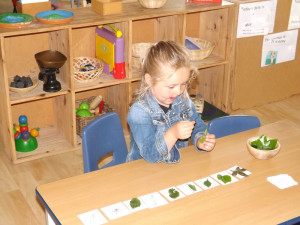 The nursery is proud to offer Montessori based education and when you visit us we will explain exactly what this means. Each room is lead by experienced and well qualified staff which are all genuinely interested in and become fond of each and every child who attends.  Information sessions relating to the activities we share are held during the year, which you should try to attend as by understanding what we do at nursery will help both you and your child benefit the most. These information events provide an opportunity for you to understand the activities your child is sharing helping us to join home and nursery together harmoniously – after all it is not the staff at nursery who are your child's most important educators, it is you at home who matter the most!
**Detailed records are kept of each child's development from the minute their join us at nursery which enable us to track their progress and ensure we notice both their strengths and also any areas for further development.   We also use an electronic App, which enables us to record your child's learning activities via digital photography, which is recorded, together with written information relating to the learning activity, which is in turn linked to the EYFS (Early Years Foundation Stage) learning goals.
These digital reports are then forwarded to parents electronically via secure email.  Parents and carers tell us that they "love" these electronic reports they can easily be forwarded to family and loved ones.  Some parents have had the whole collection printed and bound to provide an amazing record of their child's development and early learning.
It is mandatory for us to prepare a summative assessment of your child's learning and development when they are approaching 30 months -  we will meet with you to discuss the assessment and celebrate your child's achievements, and also discuss honestly and professionally any areas of your child's development and learning about which we have concerns.   Both our assessment and details of discussions shared between us should be shared with your health visitor when your child attends for their two and a half year old check to ensure that we are all working together to make sure your child had the best possible start to their education.
All record sheets and electronic reports are of course confidential and are available to staff and individual parents only.
When your child leaves nursery whether to transfer to primary school or for some other reason, we are now required by law to share information about your child with other receiving settings or pre-school settings.    We will usually do this by preparing an up to date summative assessment which we will share with you, before we agree to share it with their new educators / teachers.
What Makes A Montessori Nursery Different?
The teacher's role in the Montessori Nursery is to be a directress, rather than a traditional teacher: we assist the children towards learning, rather than instruct them. We are the tool that the children are invited to use to make sense of their surroundings.
In all areas of this school, the basis upon which all activities are based, are the Montessori didactic materials and our genuine respect for each child as an individual.
Montessori's holistic approach to learning and firmly, placing emphasis on cultivating healthy, safe, independent children through their emotional, social, physical and academic development.