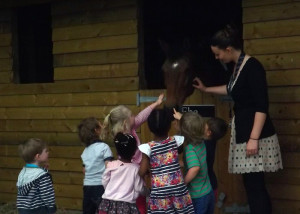 All the staff at the old school house take great pride in endeavouring to provide a caring happy environment which provides the highest standard of care and education for the children who attend this setting.
Every member of staff at The Old School House recognises and appreciates the absolute need to respect and understand each child as an individual. We will take the time to speak to your little people to encourage their language development. We will play with them to encourage their imagination and exploration and most importantly we will encourage their enjoyment and sense of fun, whilst at the same time encouraging the early development of listening skills and the ability to follow simple instructions
We provide a secure, caring environment for the children attending the nursery and maintain and adult to child ratio often in excess of the governments requirement which is 1 member of staff to 3 babies and toddlers from 3 months to 2 years, 1 member of staff for each four 2 – 3 year old children and then 1 to each eight children from 3yrs upwards (although usually ratio's at this stage are 1/5 or 1/6 maximum).
Each room is lead by a core of qualified and experienced staff, who in turn are supported by assistants. The children are supervised and cared for at all times under the same ratio's when indoors and also when outdoors.
Please click below to find out more about the staff.